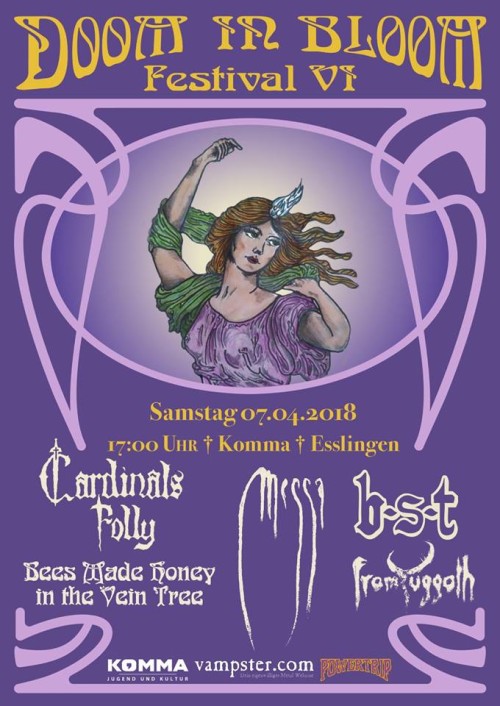 Einlass: 17:00, Beginn: 18.00
Das DOOM IN BLOOM Festival kehrt zurück!
Mit dieser sechsten Ausgabe wird abermals ein handverlesenes Line-Up mit Doom Bands aus der Region und darüber hinaus präsentiert. Mit unserer familiären Atmosphäre und viel Detailverliebtheit bleiben wir 2018 der Doomszene erhalten und bieten einen Treffpunkt für alle Freunde der musikalisch etwas langsameren Gangart. Dabei gilt wie immer: Non-Profit und viel Herzblut. DIY or DIE!
Tickets im Vorverkauf: Einzelticket 17 € / Kombi-Ticket mit Into Nothingness – Another Night Full Of Void (14.4.) 30 €
LINE UP:
Cardinals Folly (Helsinki, Finland)
BEWARE, DERANGED PAGAN SONS TAKING OVER! We are very excited to announce that traditional doom bastards Cardinals Folly from Helsinki will bang your heads with their three-bladed heavy doom at our festival. One of their rare shows in Germany!
cardinalsfolly.bandcamp.com
youtu.be/TUoUPoJcYvw
Hangman's Chair (Paris, France) MUSSTEN LEIDER AUS FAMILIÄREN GRÜNDEN ABSAGEN! CANCELLED DUE FAMILIAR REASONS!
MESSA (Treviso, Italy)
Evoking, vintage doom with a dark jazz twist. Deliciously haunting female vocals, rhodes piano and 70's fuzz guitars combine to conjure a sound that is all of their own. The band has moved from the droning occult doom of their first LP 'Belfry' to a new, darker and more atmospheric approach to their unique sound. This evolution is clearly showcased in their new record 'Feast for Water', a concept album centered on the introspective, symbolic and ritual features of the liquid element. Doom in Bloom Festival VI is very honoured to host the official EU (excluding Italy) release show of their new LP "Feast for Water", out 6th April on Aural Music.
messa666.bandcamp.com
youtu.be/3wcWnQBlOy4
Bees Made Honey in the Vein Tree (Stuttgart)
Psychedelic Doom Rock from one of the most promising, german newcomers of 2017 (#15 of 20 in debut albums 2017 at The Obelisk). Beautiful and eerie psychedelic mixed with rockin' doom riffs charakterized their heavy and variable sound.
beesmadehoneyintheveintree.bandcamp.com
youtu.be/mhGz72AVXNY
B.S.T. (Hamburg)
Hamburg City Doom – slow, melancholic, traditional with a pinch of sludge, lots of melody and german lyrics.
bstdoom.bandcamp.com
youtu.be/ipI7er1WD4w
From Yuggoth (Dresden)
Monolithic riffs from the depth of a distorted, dirty and unearthly reef deep down on a foreign planet somewhere in the universe. Transcendental in terms of volume and repetition to take you through the psychedelic ether. Cosmic Horror Space Doom?
fromyuggoth.bandcamp.com
youtu.be/nnKTqPlDHMI
Tickets im Vorverkauf: Einzelticket 17 € / Kombi-Ticket mit Into Nothingness – Another Night Full Of Void (14.4.) 30 €