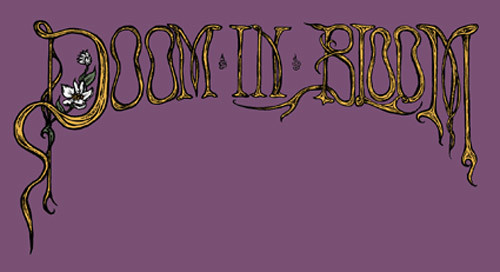 Das DOOM IN BLOOM Festival kehrt zurück!
Mit dieser sechsten Ausgabe wird abermals ein handverlesenes Line-Up mit Doom Bands aus der Region und darüber hinaus präsentiert. Mit unserer familiären Atmosphäre und viel Detailverliebtheit bleiben wir 2018 der Doomszene erhalten und bieten einen Treffpunkt für alle Freunde der musikalisch etwas langsameren Gangart. Dabei gilt wie immer: Non-Profit und viel Herzblut. DIY or DIE!
LINE UP:
Bees Made Honey in the Vein Tree (Stuttgart)
Psychedelic Doom Rock from one of the most promising, german newcomers of 2017 (#15 of 20 in debut albums 2017 at The Obelisk). Beautiful and eerie psychedelic mixed with rockin' doom riffs charakterized their heavy and variable sound.
beesmadehoneyintheveintree.bandcamp.com
youtu.be/mhGz72AVXNY
B.S.T. (Hamburg)
Hamburg City Doom – slow, melancholic, traditional with a pinch of sludge, lots of melody and german lyrics.
bstdoom.bandcamp.com
youtu.be/ipI7er1WD4w
From Yuggoth (Dresden)
Monolithic riffs from the depth of a distorted, dirty and unearthly reef deep down on a foreign planet somewhere in the universe. Transcendental in terms of volume and repetition to take you through the psychedelic ether. Cosmic Horror Space Doom?
fromyuggoth.bandcamp.com
youtu.be/nnKTqPlDHMI
More soon!