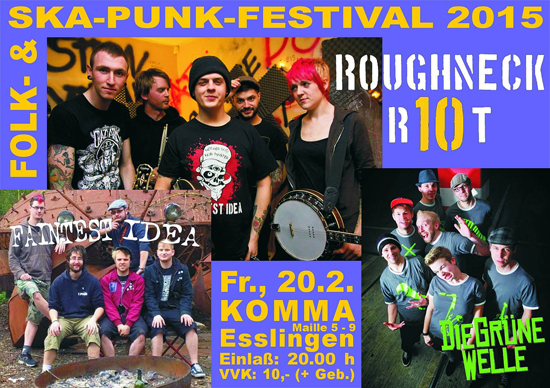 The Roughneck Riot are a 6 piece Punk band from Warrington UK.
"Influenced by traditional Folk music from around the world, we are reinventing and rewriting Folk music to make sense to our lives today. We write music for people, regardless of race, nationality, age, gender or sexuality. In a country with a government trying to destroy it, and a music industry run by money hungry people who couldn't care less about musicians, we are here as a voice amongst many in the scene ready to be heard. We are here to play Folk Punk music. From nowhere & everywhere. This is our Day."
Starting March 2005, The Roughneck Riot hailed as Manchester's most energetic, raucous and messy punk bands – with a sound that could turn holy water to piss. Taking influences from bands such as The Pogues, The Clash, Johnny Cash and Social Distortion, the bands sound evolved into the whiskey soaked, Guinness fuelled, neighbour disturbing collection of songs that you cant help but party to!
2009 saw a line-up change and The Roughneck Riot progress from the 4 piece bunch of teenage guys to the 6 piece orchestra of twisted celtic punk rockers you see today. Since that point the band have taken the UK by storm, with none-stop gigs up and down the country, two European tours & support slots for acts such as: The Mahones, The Real McKenzies, Sham 69, Demented are Go, Street Dogs, Shane MacGowan and other underground artists.
With their début album under their belt, and having just released their new E.P 'Same Again Tomorrow', The Roughneck Riot are set for the rest of 2011 with UK, Ireland & European tours and festivals and support slots for The Creepshow, Street Dogs, Hooligan and Monica and the Explosion, Talco and The Buccaneers.
Faintest Idea are a fast explosive punk and two tone ska band with deep, hard hitting dual vocals and addictive brass. From there energetic live performance, its no suprise they have an ever growing army of loyal fans. Mixing an exciting concoction of their influences – The Filaments, Rancid, Inner terrestrials,The specials,Toots and the Maytales etc; this band has its own sonic blast punk injected sound that is to rare to comprehend on its own!
In Zeiten, in denen Musik immer mehr kategorisiert und Genres überdefiniert werden, setzt "DIE GRÜNE WELLE" ein (Ampel)Zeichen. Mit ihrer einzigartigen Stilmischung aus Hip Hop, Ska, Reggae und Punk lässt sich die 7-köpfige Truppe so leicht in keine Schublade stecken. "Skagga" ist das selbstkreierte Motto, das sich die Band auf die Fahnen geschrieben hat und Live von Anfang bis Ende ohne Unterbrechung für gute Laune sorgt. Seit 2010 dauert die Fahrt nun an, auf der die Band auf eine beachtliche Anzahl von Konzerten auf Festivals oder Clubs und Jugendhäusern zurückblicken kann. Unter anderem supportete man auch Bands wie THE TOASTERS (USA), BIGMANDRAKE (Venezuela), OHRBOOTEN (D), THE DETONATORS (Serbien), ZEBRAHEAD (USA), HEISSKALT (D) oder RANTANPLAN (D). VVK
Vorverkauf (VVK) zzgl. Geb. an jeder CTS(eventim)-Vorverkaufsstelle in Deutschland oder beim Eventbüro Stuttgart (im Karstadt / Königstraße bis 10.2.2015, und ab 12.2.2015 im Wittwer / Schloßplatz). Versand per Post ebenso über www.eventbuero.com, Hardtickets bei Ratzer Records, Saturn, Flaming Star und Bonnie & Clyde in Stuttgart! Preis VVK: 10 Euro
Weiterführende Links: http://youtu.be/yFgi_wxZvGg (The Roughneck Riot), http://youtu.be/whAPEEisswI (Faintest Idea), http://youtu.be/_V49QsfXUNk (Die Grüne Welle)