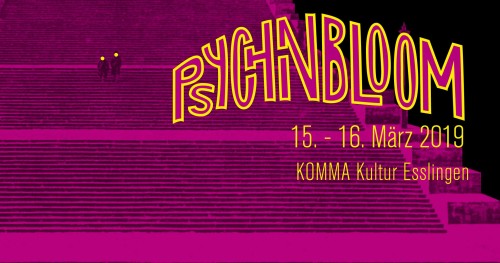 Komma Esslingen, Popbüro Region Stuttgart und eclipsed-Rock-Magazin präsentieren:
PSYCH IN BLOOM FESTIVAL 2019 – 15./17.3.2019 im Komma Esslingen

Vorverkauf (Early-Bird Tickets, 32€): https://komma.reservix.de/tickets-psych-in-bloom-festival-all-day-ticket-2019-early-bird-special-price-in-esslingen-komma-esslingen-am-15-3-2019/e1325890
Lineup:

Xiu Xiu (USA)
Experimental Rock / Avantgarde Pop / Noise
https://xiuxiu.bandcamp.com/

Hypnodrone Ensemble (D)
Ambient / Psych / Space Rock
https://hypnodroneensemble.bandcamp.com/
The Oscillation (UK)
Psych / Space / Krautrock
https://theoscillation.bandcamp.com/
The Telescopes (UK)
Psych / Drone / Noise Rock
https://thetelescopes.bandcamp.com/
Aidan Baker & Korb-Modular (D)
Ambient / Drone / Soundscapes
https://aidanbaker.bandcamp.com/
https://www.korb-modular.com/
Melody Fields (SE)
Psychedelic Rock
https://melodyfields.bandcamp.com/
Throw Down Bones (IT)
Industrial / Acid House / Techno
https://fuzzclub.bandcamp.com/album/two
Sugar Candy Mountain (USA)
Psychedelic Pop
https://sugarcandymountain.bandcamp.com/
——-
It's happening again!
Zwei Tage lang feiern wir kommenden März die Sounds des Psych, Krautrock und Shoegaze, inklusive Rahmenprogramm aus Live Visuals, Rauminstallationen, Film-Screenings, Workshops und Vielem mehr. Weitere Infos folgen!
___________________________________________________
Next March we will celebrate the sounds of Psych, Krautrock and Shoegaze once again during a two-day festival, accompanied by live visuals, art installations, film-screenings, workshops and much more. More infos soon!
Save the date!