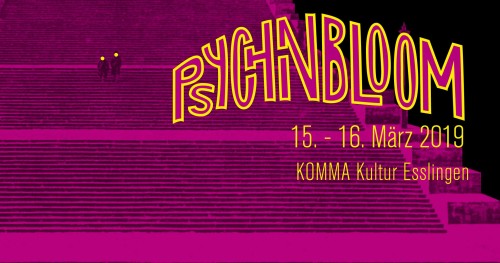 Komma Esslingen & Psych in Bloom präsentieren:
PSYCH IN BLOOM FESTIVAL 2019
Lineup:

The Oscillation (UK)
Psych / Space / Krautrock
https://theoscillation.bandcamp.com/
The Telescopes (UK)
Psych / Drone / Noise Rock
https://thetelescopes.bandcamp.com/
more tba soon!
It's happening again!
Zwei Tage lang feiern wir kommenden März die Sounds des Psych, Krautrock und Shoegaze, inklusive Rahmenprogramm aus Live Visuals, Rauminstallationen, Film-Screenings, Workshops und Vielem mehr. Weitere Infos folgen!
___________________________________________________
Next March we will celebrate the sounds of Psych, Krautrock and Shoegaze once again during a two-day festival, accompanied by live visuals, art installations, film-screenings, workshops and much more. More infos soon!
Save the date!