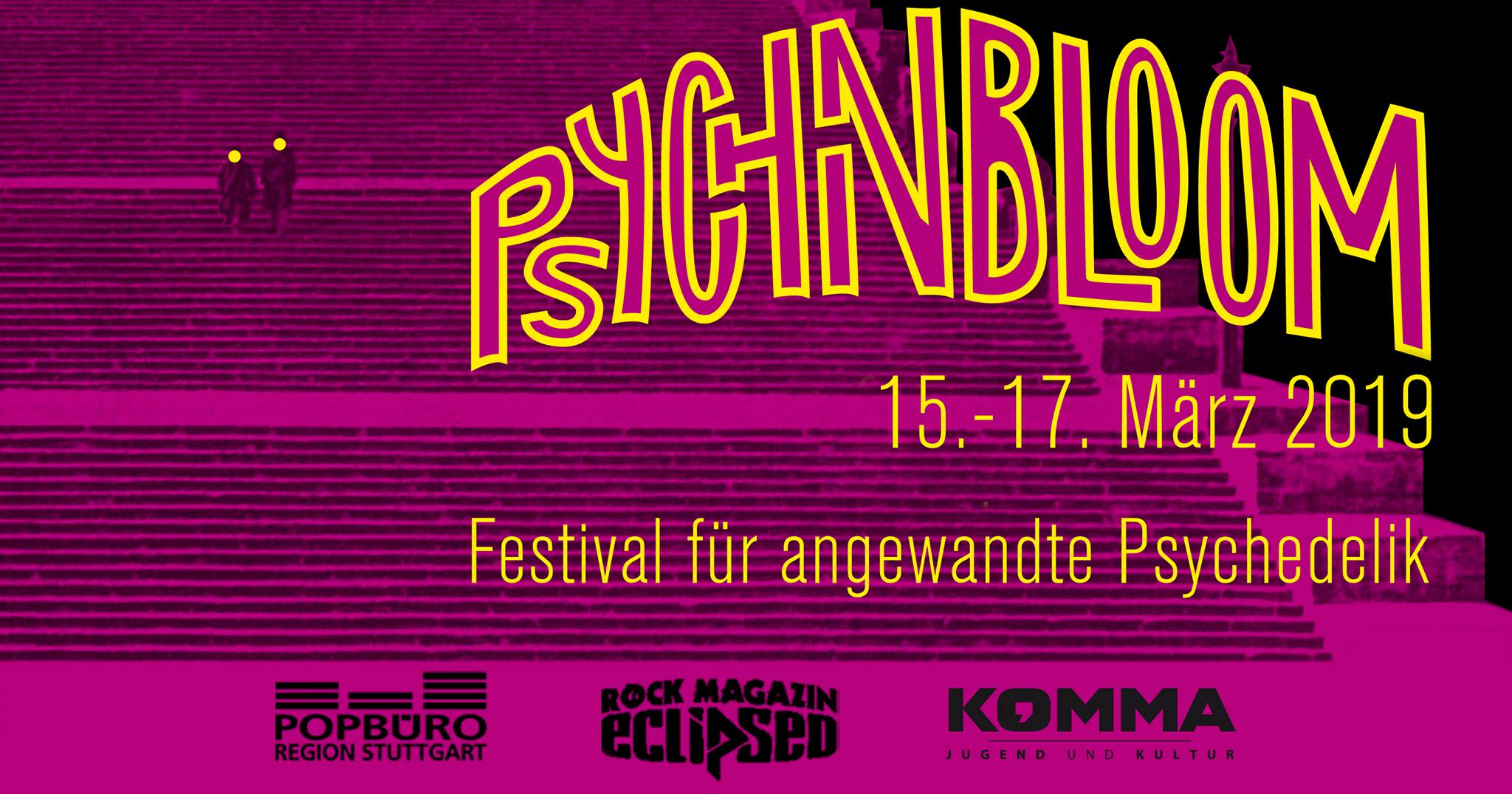 Komma Esslingen, Popbüro Region Stuttgart, eclipsed-Rock-Magazin & DOOM IN BLOOM präsentieren:
PSYCH IN BLOOM FESTIVAL 2019 vom 15. – 17.3.2019 im Komma Esslingen
mit Ago, Aidan Baker + Korb-Modular, Die Felsen, Fluktuation 8, Hypnodrone Ensemble, Jack Ellister, Les Six + PPLC, The Oscillation, Perigon, Pub Čerenkov, Sugar Candy Mountain, The Telescopes, Thisquietarmy Arkestrah, Throw Down Bones, Vibravoid und Xiu Xiu
It's happening again!
Drei Tage lang feiern wir im März die Sounds des Psych, Experimental, Krautrock und Shoegaze, inklusive Rahmenprogramm aus Live Visuals, Rauminstallationen, Film-Screenings, Workshops und Vielem mehr.
Mehr Infos gibt's hier: psychinbloom.com
Und hier findet Ihr die Tickets: Tickets
___________________________________________________
This March we will celebrate the sounds of Psych, Krautrock and Shoegaze once again during a three-day festival, accompanied by live visuals, art installations, film-screenings, workshops and much more. Save the date!
For further information check: psychinbloom.com
Tickets: Tickets
___________________________________________________
Lineup Freitag, 16.3.:
The Oscillation (UK)
Psych / Space Rock
https://theoscillation.bandcamp.com/
Hypnodrone Ensemble (DE)
Ambient / Space / Post-Rock
https://hypnodroneensemble.bandcamp.com/
Jack Ellister (UK)
Psychedelic Rock / Acid Folk
https://jackellister.bandcamp.com/
Pub Čerenkov (DE)
Psych / Space Rock
https://pubcerenkov.bandcamp.com/
ago (DE)
Experimental / New Wave / Electronica
https://ago-band.bandcamp.com/
Die Felsen (DE)
Atmospheric / Drone / Psych Folk
Lineup Samstag:
The Telescopes (UK)
Psych / Drone / Noise Rock
https://thetelescopes.bandcamp.com/
Xiu Xiu (USA)
Experimental Rock / Avantgarde Pop / Noise
https://xiuxiu.bandcamp.com/
Vibravoid (DE)
Psychedelic Rock
http://www.vibravoid.com/
Sugar Candy Mountain (USA)
Psychedelic Pop
https://sugarcandymountain.bandcamp.com/
Aidan Baker + Korb-Modular (DE)
Ambient / Drone / Soundscapes
https://aidanbaker.bandcamp.com/ / https://www.korb-modular.com/
Throw Down Bones (IT)
Industrial / Acid House / Techno
https://fuzzclub.bandcamp.com/album/two
Perigon (DE)
Drone Pop
https://treibenderteppichrecords.bandcamp.com/album/fatimema
Fluktuation 8 (DE)
Alternative / Space Rock
https://soundcloud.com/fluktuation-8
Film Screenings: TBA
Lecture by Horst Porkert (Space Invaders, H2O Records)
Workshop: thisquietarmy Arkestrah
Improvisational / Ambient / Drone
Anmeldung: psychinbloomfestival@gmail.com
Lineup Sonntag:
Les Six + PPLC (DE)
Audiovisual / Field Recordings
https://lessix.bandcamp.com / http://timodufner.com/pplc.html
+ Exhibition by Uwe Buechele
+ Vegan Food by Super Jami