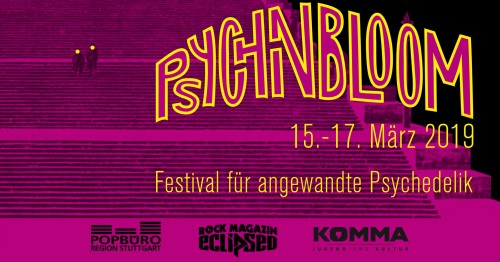 Komma Esslingen, Popbüro Region Stuttgart und eclipsed-Rock-Magazin präsentieren:
PSYCH IN BLOOM FESTIVAL 2019 – 15. – 17.3.2019 im Komma Esslingen

Presale-Tickets erhältlich unter: bit.ly/psychinbloom2019_tickets
(Freitag 18€ / Samstag 28€ / Beide Tage 40€ – alle Preise zzgl. Gebühren)

Alle Infos: http://psychinbloom.com/
Lineup Samstag:
The Telescopes (UK)
Psych / Drone / Noise Rock
https://thetelescopes.bandcamp.com/
Xiu Xiu (USA)
Experimental Rock / Avantgarde Pop / Noise
https://xiuxiu.bandcamp.com/
Sugar Candy Mountain (USA)
Psychedelic Pop
https://sugarcandymountain.bandcamp.com/
Aidan Baker & Korb-Modular (DE)
Ambient / Drone / Soundscapes
https://aidanbaker.bandcamp.com/ / https://www.korb-modular.com/
Throw Down Bones (IT)
Industrial / Acid House / Techno
https://fuzzclub.bandcamp.com/album/two
Perigon (DE)
Drone Pop
https://treibenderteppichrecords.bandcamp.com/album/fatimema
Godless Funk Of Bonanza (DE)
Psychedelic / Fusion / Rock
https://godlessfunkofbonanzaband.bandcamp.com/
+ 2 TBA
Film Screenings: TBA
Workshop: TBA
——-
It's happening again!
Drei Tage lang feiern wir im März die Sounds des Psych, Experimental, Krautrock und Shoegaze, inklusive Rahmenprogramm aus Live Visuals, Rauminstallationen, Film-Screenings, Workshops und Vielem mehr.
___________________________________________________
This March we will celebrate the sounds of Psych, Experimental, Krautrock and Shoegaze once again during a three-day festival, accompanied by live visuals, art installations, film-screenings, workshops and much more. Save the date!